Tres Amigos was the idea of creating a joint event with
two major associations in Marseille: Tango Por Vos and Petit Patio.
In order to allow non Marseillais to come to Marseilles to dance all weekend,
we articulated the two local milongas with a new and surprising place in the Cours Julien district.
For the moment, there has only been one edition in October 2021.
Tres Amigos # 1 (Octobre 2021)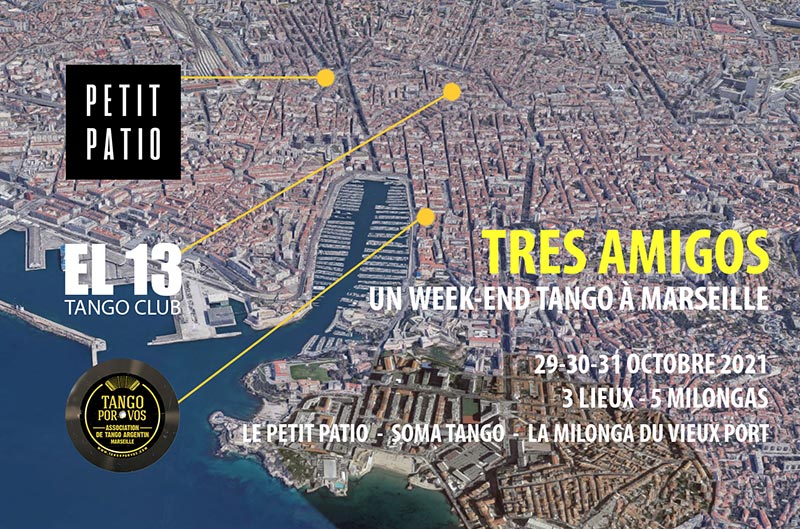 3 venues – 5 Milongas
3 organizing friends – 5 DJs
Le Petit Patio, EL 13 Tango Club, Tango por Vos unite!
We are trying a new formula for a weekend in Marseille. If you like it, we will try to make it a permanent feature!
A marathon tango weekend in the centre of Marseille, between the Canebière, the Cours Julien and the Vieux Port, so that the Tango and the Marseille milongas live on!
Registrations open to all on site in each milonga.
– Le Petit Patio –
65 Allée Gambetta – 13001
Friday 29 October from 7pm to 1am (6 euros for members, otherwise 8 €)
DJ Sylvain Millet
– Le SOMA bar – upstairs – at
at 55 Cours Julien 13006, bar/exhibition room that El 13 Tango Club has the honour to inaugurate for the first time!
Saturday 30th from 2pm to 7.30pm: DJ Marc Tommasi, (6€)
Saturday from 9pm to 1am: DJ Camille Boucher (8€)
Sunday 31 from 2pm to 7pm: DJ Benoit Galindo (6€)
= SOMA Pass = 20 € for the 3 milongas.
As the Soma's capacity is reduced, we advise you to register using the following form. Priority will be given to dancers coming from far away.
If you are over the limit, you will be put on the waiting list.
https://forms.office.com/r/aRHTy3hJaH
– La milonga du Vieux Port, 13007
17 Quai de Rive Neuve – code 1901#
Sunday 31 October from 7pm to 1am: DJ Diego Amado – 8 €.
For our foreign friends, accommodation proposal (sheet 1) and carpooling (sheet 2), please register on the online table and below:
https://docs.google.com/…/15LBxFAp5jwwkJLIfJM…/edit…
A big thank you to the people of Marseille who will honour the laws of Mediterranean hospitality!
NB: the milongas will take place in the respect of the sanitary instructions