Por una cabeza is, after Rey del Compás and Dulce de Lecques,
our third prestigious event,
It is located in an atypical place: the Borely racecourse in Marseille.
A double view on the Borely park and on the Prado beaches.
All this just a few steps from the sea.
The first edition was held in 2022.
Por Una Cabeza #1 (juillet 2022)
Flyers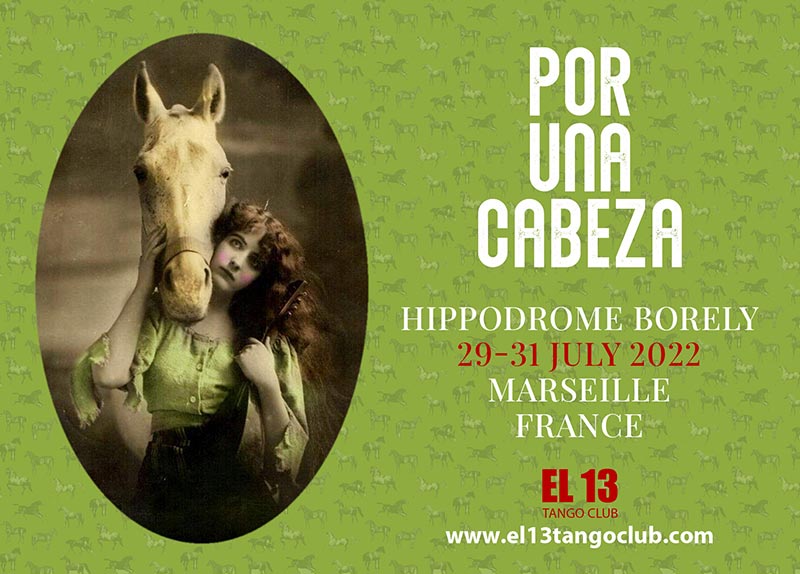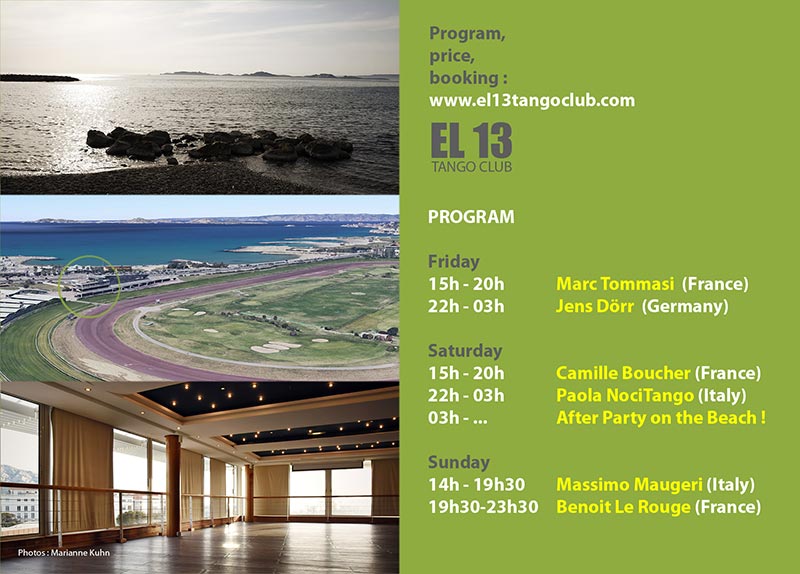 DJs
Paola Noci Tango (Noci, Italy)
Massimo Maugeri (Roma, Italy)
Jens Dörr (Cologne, Germany)
Benoit Le Rouge (El 13 – France)
Camille Boucher (El 13 – France)
Marc Tommasi (El 13 – France)
Acknowledgements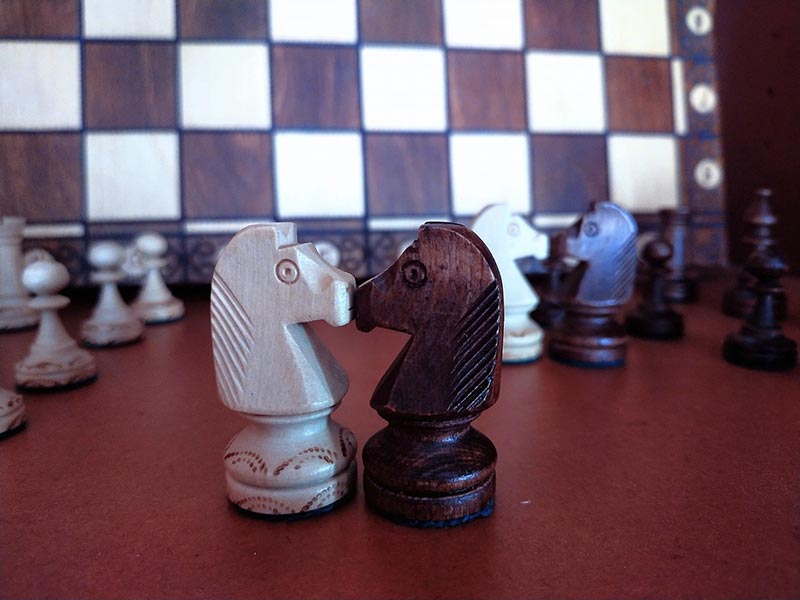 O la la ! What a first edition !
We're all washed out (the proof: 4 days late on this message!) but deeply happy with this first edition of POR UNA CABEZA with unforgettable images in our heads and tons of emotions.
The El 13 Tango Club team (Benoit, Camille & Marc) would like to thank the delicious DJs:
Jens Dörr, who made the dancers tango with energy and subtlety, Paola Nocitango, that sun who set the dance floor on fire and recreated the Saturday night fever, Massimo Maugeri, who enveloped us with beauty and surprise.
We thank the indispensable volunteers who literally make the event happen: Anne-Charlotte, Antonin, Carina, ÉMi Lie Lita, Federico, Hadrien, Inès, Lilia, Marianne, Matias, Noemie, Patrick, Valeria as well as Nico A-narco Tango, Sebastien, Juliet and Jérôme.
Their commitment and professionalism were often beyond ours!
A big congratulations to our Reunionese-Cevenolese chef, Angélique, and her assistant Charlotte, who fed the team and provided the participants with high quality snacks.
Thanks also to the artists Marianne and Azul Loeve, helped by Lilia, who poetized the television screens of the racecourse and added to the general atmosphere a thousand small details.
A big collective abrazo to all the dancers of the event, who created an incredible mix of joy, good vibes, not to mention that most of them were great dancers!
Finally, thanks to Sonia Nemer for making it possible to rent the venue and to Antonio, who was always available and didn't sleep all weekend to open and close the venue.
We hope to see you soon here or there.
FACEBOOK EVENT